About PASMAE
Music is a significant part of many cultures that leads them to creative expression and ultimately it brings individuals and communities together.
PASMAE serves music educators across Africa, by running conferences and sub-regional conferences, by assisting to preserve music and culture in African countries, by publishing and disseminating research, by supporting practical musicians in the sharing of resources and best practice methods.
PASMAE is an advocate for music and musical arts in Africa, giving support in the form of advocacy materials to individual music educators as well as institutions at all levels.
​
The Pan African Society for Musical Arts Education (PASMAE) was initially founded as PASME, the Pan African Society for Music Education, in Zimbabwe in August 2000. The first edition of the newly named PASMAE Constitution and Bylaws was approved at the conference in Lusaka, Zambia in 2001. Since then PASMAE has gone from strength to strength.
History and Development
PASMAE was founded in 2000 to represent music education and music educators in Africa. A full history is on the dedicated page.
PASMAE logo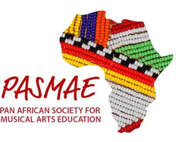 Annie Sparg, the designer, explained the thinking behind the ISME logo:
The colourful beads suggest the heritage in Africa from other countries, from whence they were imported centuries ago.
​
Yet now African beadwork is seen as indigenous, in many ways, despite the fact that similarities can be shown between African beadwork and that from other parts of the world.

There is no instrument featured or human figures of whatever colours, say with open mouths suggesting singers, so as to not to signify any particular musical culture or genre.
​
The logo is thus quite neutral. And yet the mixture of the black and white beads suggests cooperation between races, just as black and white ribbons were tied across the equator at PASMAE's conference in 2001.
Governance
ISME is governed by a Constitution and Bylaws, and manged by an Executive Committee that is elected at the regional conference for a two year term.
Nominations for the Executive Committee and voting is open to all members. When the process is open all details can be found on the PASMAE Elections page.