GEOGRAPHICAL LOCATION
Ghana is a West African country that shares borders with Togo (to the east), Côte d'Ivoire (to the west) and Burkina Faso (to the north). At the southern border is the north-easternmost part of the tropical Atlantic Ocean, the part often referred to as the Gulf of Guinea. English is the official language, and the unit of currency is the Ghana Cedi. Ghana is strategically positioned both close to the equator and on the Greenwich Meridian and the time zone is the Greenwich Mean Time (GMT). Ghana's climate is as tropical as it can get, and the weather is nice all year round.
Ghana's capital city is Accra. It is the landing space of all international flights, and it is from Accra that all international participants will travel by bus to Cape Coast (the conference venue), about 147 Km (2 and a half to 3 hours' drive).
Ghana, the first self-governing country on the African continent under Kwame Nkrumah in 1957, is popular as a tourist destination for many reasons. In Cape Coast alone, where the conference is proposed to take place, there's a rich variety of booming musical cultures, the popular Kakum National Park and canopy walk, adinkra symbols carving and paintings, historical edifices some of which have been declared UNESCO World Heritage Sites (e.g. the Cape Coast Castle), the celebration of the Pan African Historical Theatre Festival (PANAFEST), the celebration of the Fetu festival, the site of the first colonial castles and castle schools, the fishing port, the traditional chief paramountcy, and the legendary singing fishermen, just to name a few. The University of Cape Coast is one of the rare Universities that overlook the Ocean.
Health Recommendations when Visiting Ghana
Compulsory: Vaccination Against Yellow Fever for All Passengers.
Recommended: Take Malaria prevention medication as there is a Malaria Risk
throughout the year in the whole country.
Advice on Covid-19: Follow all official instructions. Maintain contact with your
diplomatic representation. Consider delaying travel if experiencing symptoms
associated with COVID-19, as they may prompt increased scrutiny and delays.
IMPORTANT NOTE:
It is the responsibility of those travelling to check the latest health requirements
very carefully, prior to travel, as PASMAE cannot be held responsible.
Resources for the above information:
World Health Organization (WHO)
Ghana Ministry of Health
https://www.moh.gov.gh/
VISAS
There is a dedicated sub-committee responsible for assisting those who require visas. They will work closely with the Office of International Relations (OIR) at the University of Cape Coast to assist with visa applications of the many international students and academics who will attend the Conference. All questions related to visas may be directed to [email protected].
Planning your Ghana: Information on Visa Requirements
Visa-on-arrival: Only persons or citizens whose countries do not have a Ghana consulate / embassy or authorized representative in a nearby country are qualified for this category. If you qualify, it is very necessary to apply as soon as possible–APRIL 30 AS ABSOLUTE DEADLINE– well ahead of the conference to allow ample time for the processing of immigration protocols.
The conference LOC will apply to the Ghana Immigration Office on your behalf (i.e., with your details–Bio data page of conference participant's passport and of the passport of the signatory to the application letter) for a special clearance and which will be sent to the individual who will then use this as a boarding pass– you must be prepared to pay at least a $150 (subject to change) fee with the clearance form on your arrival.
The following areas are highly recommended for your immediate attention and these include entry visa, health and safety.
The following links will give you some further details on the Ghana visa situation, including countries that are exempt from visa requirements:
https://home.gis.gov.gh/permits-and-visas/
https://home.gis.gov.gh/permits-and-visas/
https://www.gis.gov.gh/visa_permits.html
https://www.travisa.com/ghana-visa
https://ecimsglobal.com/VisaApplication.aspx
For further inquiries concerning visa requirements and invitation letters, contact the Chair of the conference visas sub-committee through [email protected]. All Conference participants are strongly advised to ensure that they have all the necessary documents before arriving in Ghana.
As a rule of thumb (and as applicable to many other countries) you must have a passport that is valid for at least 6 months before you apply for visa.
All visitors entering Ghana must have valid entry visas or, in the case of Commonwealth nationals, entry permits, issued by a Ghana diplomatic mission or consulate abroad or any other visa issuing authority mandated by the Government of Ghana to act on its behalf. Nationals of the Economic Community of West African States (ECOWAS)and those of other countries with which the Government of Ghana has specific bilateral agreements, are exempted. Participants from the following countries are exempted from Visa Requirements:
All ECOWAS Countries; others: Barbados, Guyana, Jamaica, Kenya, Mauritius, Rwanda, Seychelles,Singapore, St. Vincent and Grenadines, Tanzania, Trinidad and Tobago, Uganda and Zimbabwe.
Holders of Diplomatic, Service or Official Passports from some countries are also exempt. Please check from the Ghana Embassy nearest you.
Often an invitation letter is required and which the LAC (and sometimes a valid national ID of the "host") will supply on request.
Copy of Yellow Fever vaccination record. All travellers above nine (9) months old coming into or transiting through Ghana are required to have been vaccinated against Yellow Fever, at least, ten (10) days from the proposed date of travel; and where already vaccinated, provide evidence (certificate), indicating the duration of a vaccination status of not more than ten (10) years before entering Ghana. There may be exceptions. Please check with the relevant embassies.
You can apply for multiple or single entry/visit. (Fees vary from $60 to $200 and depending whether you are applying for an expedited//premium/express service.) First-time applicants are not eligible for multiple entry.
Select the TOURIST category on the application form.
It strongly advised to select EXPRESS/PREMIUM/EXPEDITED service.
Currency

The official currency used in Ghana is the Ghana cedi. For planning purposes, participants may use the Bank of Ghana currency conversion rate which can be accessed through the bank's website.

Languages
Although Ghana has up to 50 indigenous languages, the official language is English. Conference participants can use the English language not only within the conference space, but also to navigate their day-to-day activities in Ghana.
CONCERTS

Local musics
Ghana is one of the most musically-diverse countries in the world. Within each of the 16 administrative regions of the country are unique local/ethnically distinct music and dance forms which speak to the richness and heterogeneity Ghana's musical cultures. In Cape Coast alone (the conference venue), there are at least twelve (12) major cultural troupes that perform different musical forms from different parts of the country and from other parts of Africa.
Cape Coast is very close to the spot where the label 'high-life' was couched for Ghana's homegrown popular musical style. Cape Coast is also home to some of Ghana's topmost choral groups that perform rich locally composed choral music. The legendary singing fishermen of Ghana can also be found along the shores of Cape Coast in very close proximity to the University.
Musical arts variety is one of the strongest areas that Ghana and Cape Coast has to offer. There will be evening concerts every evening of the conference. In-person participants will have complementary tickets to each of these concerts as part of the registration fees. Apart from the evening concerts, there will be other performances incorporated into the conference program. Furthermore, performing groups from outside of Ghana will also have the opportunity to perform in spaces outside of the conference and engage with other local performing groups. The tentative schedule of evening performances include:
A – First Night – Welcome Musical Drama night. Play entitled Nkrumah's vision of a one Africa: the reality. This is a performance by the staff and students of the Department of Music and Dance, University of Cape Coast.
B – Second Night – Evening of cultural performances
This will feature the following groups among others:
Ghanaian female master drummers' group
Odikro Royals
African Music and Dance (AFRIMUDA) Group
African Folkloric (Centre for National Culture – Cape Coast)
African Footprints International
C – Variety Night
Choral (Central Vocal Ensemble)
Brass
Popular Band
Information on some of the performing groups can be found below:
AFRIMUDA
''AFRIMUDA", an acronym of African Music and Dance was officially founded in the year 2013. The office of the foundation is located in Cape Coast in the Central Region of Ghana. Our vision is to empower the vulnerable youth in and around Cape Coast for accelerated economic development through arts and culture. The members of AFRIMUDA are enriched with the discipline of learning the virtues of dedication, consistency, and unity through the intricate wisdom endowed through Ghanaian cultural and contemporary performing arts. Youth drummers learn to master the craft of more than 10 sets of African percussion including djembe, traditional drums, dundun, fontomfrom, and more. Young dancers alike are trained in the historical and contemporary dance movements that define Ghana's unique cultural style that is danced by both the elite Ghana Royals and the everyday lay man. These dances tell stories of the multi-heritage of all regions of Ghana and many parts of Africa from Senegal to the Zulu of South Africa. AFRIMUDA strives to broaden the horizons for all of the young performers who dedicate themselves to carrying on the essence of Ghana's legacy.
CENTRAL VOCAL ENSEMBLE
The Central Vocal Ensemble (CeVEn) is a not-for-profit and non-denominational choir based
in Cape Coast. The choir is made up of vibrant young men and women, some of whom are
students and workers of the University of Cape Coast, who are committed to causing societal
change through choral music. The aim of the choir is to promote patriotism, peace and
harmony through choral singing. CeVEn mostly performs Ghanaian and African choral
compositions and arrangements and other negro spirituals.
https://www.instagram.com/ceven_ucc/?hl=en
DEPARTMENT OF THEATRE AND FILM STUDIES
The Department of Theatre and Film Studies was established in August 2004 as a unit within the former Department of Music and Theatre Studies of the Faculty of Arts, UCC, and later evolved into the Department of Theatre Studies in 2008 and, finally, Theatre and Film Studies in August 2010. This was intended to provide theatre students with a broad understanding of Ghana's cultural industry as well as skills in appreciating media locally and globally. The Department runs Theatre and Film programmes concurrently and upholds its role as a cultural institution by extending its programmes to impact surrounding communities. It produces graduates to augment the human resource needs of the nation. It also undertakes semester theatre and film seasons, which have strong cultural, environmental, political and social messages.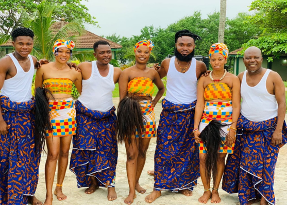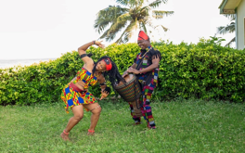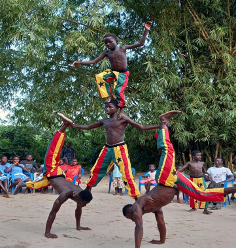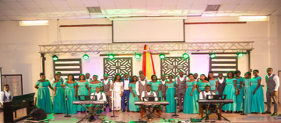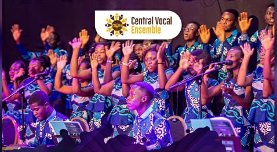 Personal safety
Ghana is a friendly and welcoming country and crime is relatively low. As in most places, protect your valuables from petty theft and pickpockets, and there are often persistent touts around the entries to some of the major tourism venues.